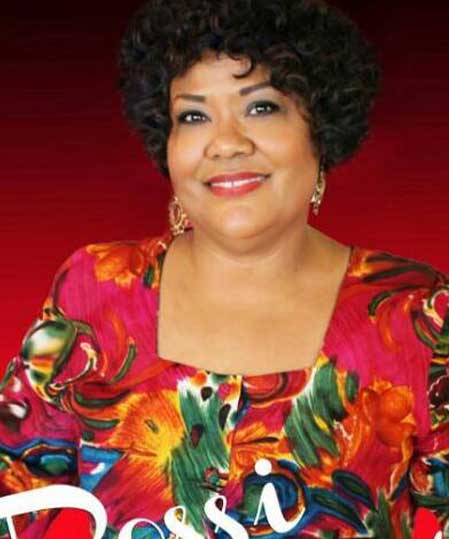 Special Guest Artist
Rossi Lopez
January 2019 I was born in the Republic of Panama. As a child, I have always loved music because my father loved music of all types and world listen to his music daily. As a child, I always liked to sing with the music that was playing. I have always wanted to be able to sing for an audience since a very young age.
As I grew older, the desire to want to sing grew along with me as well. I moved to the United States as a young adult. I currently reside in Virginia. Due to me having a son that was born with Autism, I concentrated much of my time to my son's well being. The passion within me to want to sing was still there. As my son grew into a young adult who is high function, I decided it was time for me to fulfill my dreams to become a singer.
Not knowing how to go about getting started in my music career, I was invited to a karaoke show by a very good friend of mine. My friend convinced me to participate in the karaoke contest. To my amazement, I sang my heart out on a latin selection by Celia Cruz, "El Jerverito". To my amazement the crowd went wild when I was singing and at the end of the contest I was picked as the winner for the night. I was really surprised and excited about the night. My friend convinced mt to try at Karaoke at another location and to my surprise, I won the karaoke contest again. My friend said to me, "you really need to think about following your dream to become a singer" and I will help you by creating a Facebook page for you to put your songs and any videos of you performing.
To date, I am on my second year with my facebook page, "Celia Vive en Mi" with many followers and fans of my singing performances. To date, I have performed at many different functions both private and public. I had the privilege to sing with the "K-Shamba" one of the top bands from Panama on their first tour to the United States in November of 2015. I also had to great privilege to sing on stage with salsa's top male performer, Jose' Alberto "El Canario" at an annual Panamanian reunion in Norfolk, Virginia in July of 2016.
I currently have two new releases of my own which were recorded in Medellin, Colombia. My first song, "Celia Vive en Mi" was composed by Memo Triny from Medellin, Columbia. He is known as "the Poet of Peace", el poeta de la pas. Memo Triny went into my facebook page out o f curiosity because he is a big fan of Celia Cruz. He wanted to know, what the page "Celia Vive en Mi" was about. During his visit to my page is when I met Memo Triny. He had a song in capella that he wanted me to hear. The song was "Celia Vive en Mi" and after speaking with him on various occasions, he decided that he wanted me to sing the song that he has held on to for 13 years which was when Celia Cruz passed away. This song is a tribute to the life of Celia Cruz about Celia Cruz and not about her Music. "Celia Vive en Mi" was recorded and released on October 21, 2016 in Medellin, Columbia. This date was the birthday of Celia Cruz.
My second song I have recorded with Memo Triny is called "salseros del Cielo". This song is a tribute to many of the great salsa performers of our time who are no longer with us and have passed away. This tribute is for all the lovers of salsa…be they musician, singer, dancer, or fan. Salsa lives on in our minds and in our hearts.
In November of 2017, I was a contestant in the Miami International Song Festival. My musical selection for the competition was my own, "Celia Vive en Mi". I received an honorary award from the International Song Festival held in Miami for my participation.
In April of 2018, I participated in a musical event in Miami, Florida being sponsored by Elsa Pardo. I was honored as a guest performer during the event and was the recipient of the 2018 Elsa Award for Musical Performance. In February of 2019, I released my new singe, "Y Llegaste Tu" composed and written by Gloria Reyes who lives in Tampa, Florida. My next new release, "Soy Sonera", also written and composed by Gloria Reyes will be released in the very near future
.
On December 1st 2018, I participated in the 15th Anniversary of "Raices Latinoamericanos, Inc", a gala dinner and dance as the musical entertainment for this great event involving hispanic cultures from around the world. For those of you who are interested in hearing and seeing more of my performances and songs, you can visit my Facebook page, Rossi Lopez, "Mi Musica es Tu Musica" and give a "like" or leave a comment.